A delightful and beloved dorm event, Hospers Coffeehouse, will take place on Oct. 20 in the Keith Allen Black Box Theatre. Doors open at 7 p.m. and the acts start at 8 p.m.
For the first hour, a few of the Hospers men will prepare pour-over coffee and hot chocolate for the guests, "while engaging in hospitable conversation with every person they serve," according to senior Sawyer Hildreth. Hildreth has been the "ringleader" of serving coffee for the past two coffeehouses, putting his barista experience to good use.
While the guests are waiting in the lobby, they will have an array of entertainment available to them before the acts start. "This year, we are planning to have the Hospers Museum in the lobby area where Hospers men will be showing off miniature skits, paintings and other medias," Hildreth said.
The acts are set to start at 8 p.m. in the black box. The men can perform in solo or group acts, and there are a variety of talents to view. Common acts include music, dramatic readings and some that require audience participation. Last year, Hildreth participated in a music performance, using his recorder. He performed "Theme from the Krusty Crab," "Dance of the Sugar Plum Fairies" and ended his act with "The Doxology." This year, Hildreth will read a Dr. Seuss book with a Jennifer Coolidge impression.
With acts ranging from serious showcases of talent to humorous entertainment in which Hospers residents do not take themselves very seriously, the event tends to be a crowd-pleaser. Fern resident assistant Abbie Jo Segerstrom assures coffeehouse attendees that "you will be amused. That is for sure."
The Coffeehouse tradition started in West Hall. Once that space was torn down, the men carried the tradition onto Hospers. Since then, it has become a beloved part of Hospers culture. While students from across campus attend year after year, this annual tradition has a different feel each year.
According to Hospers' resident director (RD) Dana Van Ostrand, "The first RD, Corey Kundart, cared significantly about the coffee and emphasized that more throughout the hall and for the event. (Former RD Michael 'Simm' Simmelink) was far more interested and talented at the music side, so he definitely leaned into that more."
Van Ostrand is looking forward to this event because this is his first time participating in the event as Hospers' RD. "For my first Coffeehouse, I am personally excited about seeing Hospers dudes actively work to put on a performance," Van Ostrand said. "It is invigorating to watch these guys harness an act. Obviously, there is a wide range of performances, but that is simply a testament to the incredible variety of personalities Hospers hosts. I love that we get to actively create something, alongside show hospitality to the rest of campus. It should be a great time."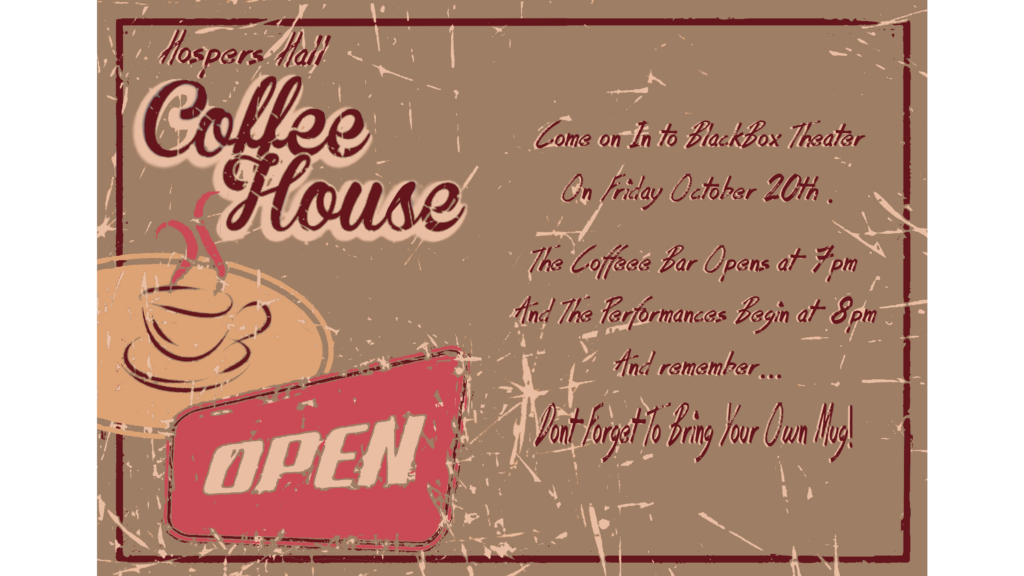 Photo Submitted