On Saturday, March 25 at 7 p.m., the Knight Center at Unity Christian High School was transformed for a night of smoke, lights and illusions. Northwestern student Jett Skrien put on an incredible illusion show, sponsored by Orange City Arts.
Skrien sets himself apart from other illusionists with shows that attract a wide range of audience members. With acts that are simultaneously family-friendly, entertaining and jaw-dropping, there is something for everyone to love at each one of Skrien's shows. Skrien generates further enthusiasm through audience participation. He does a great job at making sure the audience feels like they are a part of the show by bringing them on stage whenever possible.
Along with sharing his incredible talent of performing stunts, Skrien shares his lighting and sound design abilities. These personal design elements add to the lively atmosphere that Skrien creates at his shows and make evident the excitement he has for his work.
This sharing of skills is also accompanied by the sharing of some of his personal story. During his Orange City Arts show, Skrien shared how he first got involved in magic. Skrien was only ten years old when his interest in magic was sparked. He recalls being inspired by a show that he saw in his hometown of Marshall, MN.
After sharing this story with everyone, Skrien called a young boy on stage to be an assistant for his next act. Cooper, the young boy, had the job of holding one metal ring while Jett held the other. One moment, the two rings were separated, and the next, they were joined together. The look of wonder that could be found on Cooper's and other children's faces motivates Skrien to continue doing what he does. As he stated at the beginning of his show, Skrien appreciates when people "appreciate magic at its core, like children. They don't try to figure anything out. They just enjoy it."
The audience's reactions to each one of Skrien's acts showed how much everyone in the room thoroughly enjoyed his performance. His last act got an especially positive response from the audience. At the beginning of the show, Skrien had given his phone to an audience member and instructed them to multiply a bunch of random numbers together, such as their phone number, home address and year of birth. Skrien left the audience in suspense as to what the number's significance was until the end of the show, when he connected the product of the numbers to something very specific to the audience he was speaking to at that moment.
The acts performed by Skrien are impossible to explain in words. For one to truly appreciate the amount of heart and soul Skrien pours into his work, they must go see him perform for themselves. To find more information on Skrien's heart and vision for his work, one can look on his website at jettskrien.com.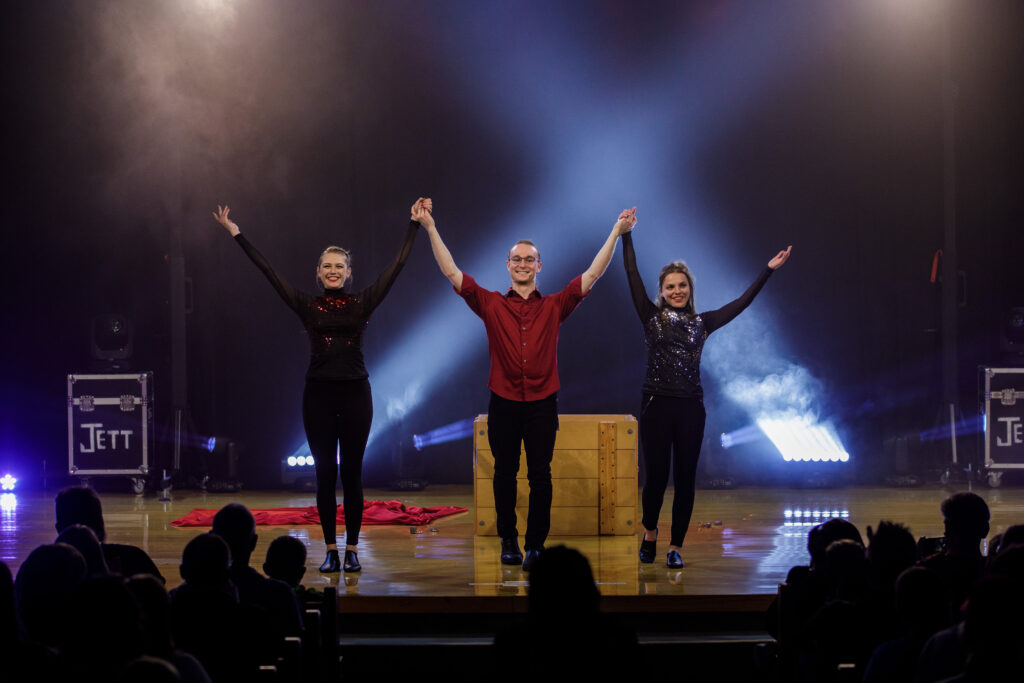 Photo from NW Marcomm