Stuart Hall has been pouring into the next generation for the past 30 years, and his passion for seeing the next generation of leaders have a faith that overflows to others was evident this past week on campus. Hall traveled from Georgia to speak to Northwestern students during Tuesday chapel, Wednesday NedTalk and at Rocky+, a high school event held at Christ Chapel Wednesday night.
Hall used his vibrant storytelling skills to challenge NW students to be people of forgiveness and unwavering faith, even through uncertainty. For Mark DeYounge, dean of Christian formation at NW, having Hall speak was a no-brainer.
DeYounge partnered with Ryan Feltman of Synod of the Heartland Youth Ministry office to have Hall speak to campus and for Rocky+, a worship event for high schoolers to amplify Rocky Mountain High, a youth conference held every three years in Estes Park, Colorado.
Tuesday morning in chapel, Hall called campus to be people of forgiveness, DeYounge believed he challenged campus in a good way through his relatable but convicting message.
"In chapel, he was calling us to Colossians 3 and to be those kinds of people who clothe ourselves in the clothing of Christ, and that calls us to love people and to do our best to forgive where forgiveness is possible," DeYounge said. "I do not think Stuart was justifying sin, but I think he was recognizing that we need to be people of forgiveness because we have a God who forgives."
Hall reminded his audience at the Wednesday morning NedTalk that the way God created the earth was a miracle. The small details, such as the distance from the sun and the earth's speed, could only be made by God. However, Hall captivated his audience by sharing his near-death experience and survival. His story contained details that DeYounge said: "all points to an incredibly astonishing God."
"He gave me a whole new perspective on miracles," Kennedy Cole, a freshman Biblical and Theological Studies major, said after hearing Hall's story Wednesday morning. "When I think of miracles, I think of water into wine, healing a leper with a touch of a hand or healing a woman with the touch of his cloak, just by believing. I forget it still happens today, but we call it miraculous, not a miracle."
Along with his story on Wednesday, Hall spoke on the vast promises of God, but also the fact that humans fall into believing there are things God has promised that he never did. This thought process leads to what Hall called an "idol of certainty."
"His point was that God does promise us a lot and to build our life on God's promises is the strongest faith we can stand on," DeYounge said. "However, we often want to build our lives on things in the name of God, whereas if we look in scripture, he never promised us that. I think that was a really good word that I hope the campus heard."
There is no doubt Hall brought good messages to campus, but how he presented his message made people listen.
"He is a good role model. It is not so much about what he said, but how he said it," Cole explained. "To see someone so on fire for the Lord and who does this for a living because he is so pumped up for the Lord that he would be willing to passionately tell everyone about it is cool to see."
Hall has extensive experience speaking to middle school through college-age students. He is also director of student leadership for Orange, a faith-based nonprofit curriculum that combines the church and family, and leader of INFLUNSR, CAPTNS and LEADR: "initiatives whose mission is to fuel the next generation of leaders worth following," according to the echo group's website. "I think he is a good role model to take out of college, so it does not end here. We can continue having intimate times with the Lord and being passionate towards other people," said Cole.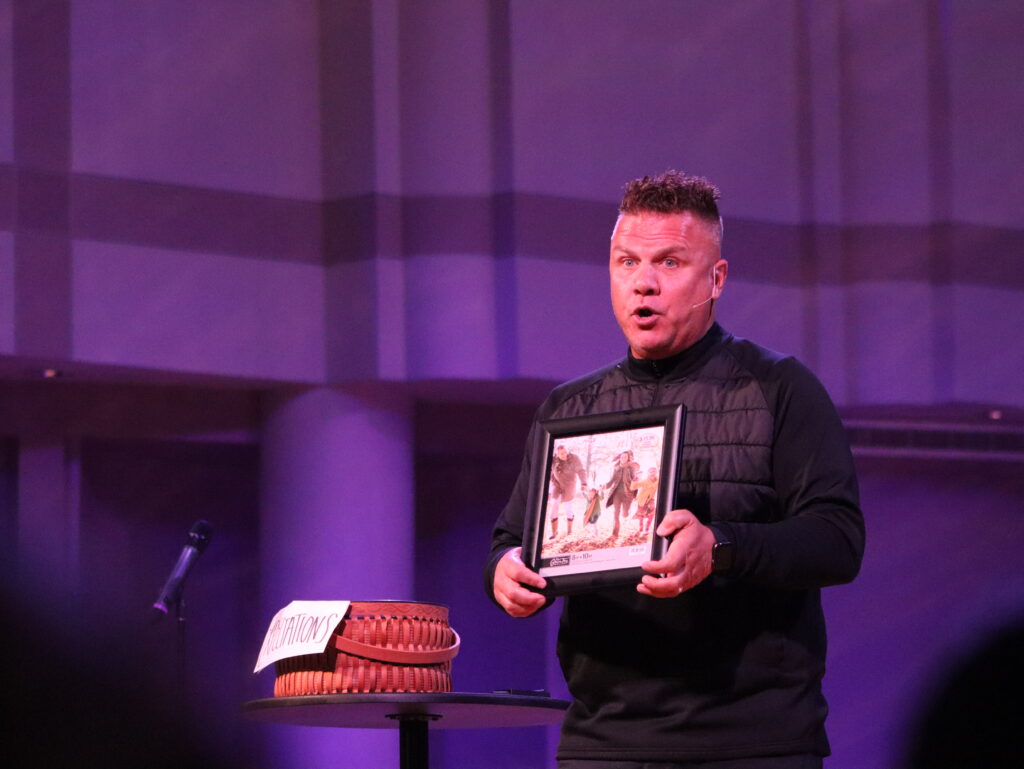 Photo by Amelia Holt